Aamir Khan and Sunjay Dutt In Rajasthan For Raju Hirani's 'PK' Shoot
Aamir Khan and Sunjay Dutt are in Mandwa in Rajasthan for the shooting of Raju Hirani's next. Buzz is that the location is extremely remote and even basic amenities are hard to access. Surprisingly, the superstars were extremely accommodating when it came to adjusting in the tough circumstances. Not only are they staying in a normal 2 star hotel, they were seen having lunch in their vans out in the open.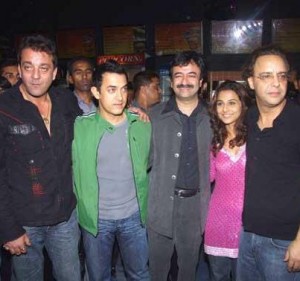 On Wednesday, a huge crowd gathered at the site for a glimpse of the stars.
Aamir and Sunjay were seen dancing in a field accompanied by around 25 young men to the tune of Rajasthani folk music. Sunjay reportedly arrived at the site on foot while Aamir opted to travel by an Innova.
The stars also stopped at a fort on the Mandwa-Jhunjhunu road for a 2 hour shoot for Aamir. The film they are shooting for is Raju Hirani's 'Peekay' which also stars Anushka Sharma, Sushant Singh Rajput and Imran Khan in addition to many actors who had roles in the film '3 Idiots'.
Sunjay Dutt's role is still under wraps although sources have confirmed that his part is a major highlight of the film and is not just replacing Arshad warsi as was thought earlier.
src: Daily Bhaskar