Rajasthan Royals vs Royal Challenger Bangalore : Match Preview
Today Rajasthan Royals will take on Royal Challenger Bangalore at M.Chinnaswamy Stadium, Bengaluru. Both Royals will ready to fight to stay at top notch teams of the IPL 2013. here is the match preview for todays match.
Rajasthan
Team News
Rajasthan come into the match on the back of a superb 87 runs win over Mumbai. On a pacer friendly Bangalore surface, Sreesanth, who missed out on the last match with an injury should be back in place of Ankeet Chavan. Owais Shah has been pretty unlucky to warm the benches so far, but with Brad Hodge doing so well as a finisher, one can't see Shah breaking into the team as of now.
In form players
When a team wins 4 out of its first 5 matches, it is quite natural that most of its batsmen are in peak form. Ajinkya Rahane and Rahul Dravid have held the innings together allowing Shane Watson to blaze away at the top of the order. Brad Hodge has adapted well as the finisher while Dishant Yagnik has been the surprise package. The bowling unit is more than capable with Siddarth Trivedi and Kevon Cooper delivering the goods consistently.
Struggling for form
Rajasthan is one team that has performed as an unit. Stuart Binny has struggled for runs, but has more than made up with the ball in his hand. Led astutely by Rahul Dravid, Rajasthan have shown a lot of fight which have papered over any cracks
What they have done so far
With 4 wins from 5 matches, Rajasthan are well placed with 8 points and a positive NRR of 1.06.
Probable four foreigners: Shane Watson, Brad Hodge, Kevon Cooper, James Faulkner.
Bangalore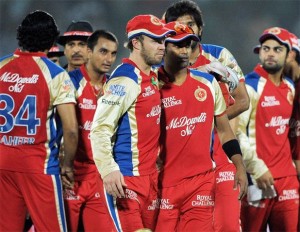 Team News
Bangalore have not yet hit the perfect team order with the management grappling with changes in every matches. Tillakaratne Dilshan and Saurabh Tiwary have passed fit from injuries and will stake a claim in the playing XI. Ravi Rampaul has all but sealed his place with his super over performance against Delhi. RP Singh's meltdown against Chennai and his subsequent poor show against Delhi might mean a place for someone else in the pacers roster.
In form players
With 321 runs, Virat Kohli is the proud owner of the orange cap while Vinay Kumar has led the bowling unit with aplomb. Chris Gayle has looked very dangerous but has failed to build on his starts while AB de Villiers has exhibited masterclass in his batting stints. The spinners have managed to hold their own giving balance and quality to the bowling line-up.
Struggling for form
After a fine start with two consecutive three wicket hauls, RP Singh has hit a rough patch since the game against Chennai. He went for plenty against Delhi conceding 48 runs from his four overs. Skipper, Virat Kohli has shown immense faith in the pacer and it will be up to him to repay the faith.
What they have done so far
Bangalore have logged in 8 points from six games at a positive NRR of 0.36.
Probable four foreigners: Chris Gayle, AB de Villiers, Ravi Rampaul, Chris Barnwell.
src: http://cricbuzz.com/cricket-news/55187/preview-bangalore-v-rajasthan-match-27