Salman Khan in Jaisalmer, to resume the shoot of 'Bajrangi Bhaijaan'
Published on:
03 Feb, 2015
---
Like/Share:
---
---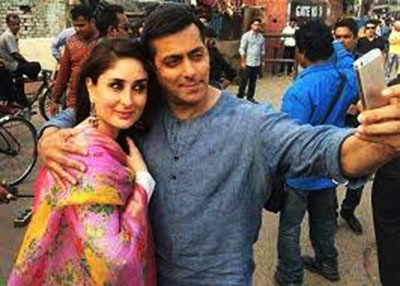 To Resume the shoot of directot Kabir Khan's film Bajrangi Bhaijan Salman Khan flew to Jaisalmer on Sunday.
The superstar landed at the Air Force Station in Jaisalmer, Rajasthan and posed for photos with the officers and fans there.;
Salman Khan is said to have checked in at Suryagarh Jaisalmer Hotel.
Bajrangi Bhaijaan is a love story between a Brahmin girl played by Kareena Kapoor and a Muslim man (played by Salman Khan).
The film is slated to release on Eid this year.
The previous schedule was held in the Rajasthan village of Mandawa.
Src:- http://www.apunkachoice.com/content/slide_show/sid100023382-spotted_salman_khan_in_jaisalmer_to_shoot_bajrangi_bhaijaan/
---
---
---
---
---
---
---
---
Found Useful? Do Share: Salman Khan in Jaisalmer, to resume the shoot of 'Bajrangi Bhaijaan':[social_share]