Nita Ambani big 50th birthday bash in Jodhpur
Well known Businesswoman and philanthropist Nita Ambani is in blue city for hosting a big bash birthday celebration in Jodhpur. She was born on Dhanteras, 1963. Now as her birthday on Friday, November 1, Nita Ambani, wife of Reliance India Limited Chairman Mukesh Ambani, turns up 50 on the day.
A host of celebrities from across the world of sports and cinema flew into Jodhpur on Wednesday ahead of the grand bash planned for Nita at the Umaid Bhawan Palace Hotel and Balsamand Lake Palace in the Blue City.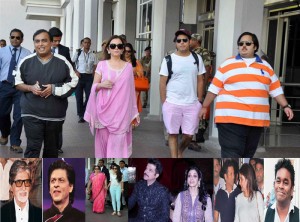 Besides dance and music, the get-together will also factor in the traditional Laxmi Puja conducted on Dhanteras.
The entire Ambani clan – Mukesh, Nita, the former's mother Kokilaben Ambani, and the couple's three children Akash, Anant and Isha – reached Jodhpur on Wednesday evening. According to sources close to the family, Nita will cut the cake at the Umaid Bhawan Palace Hotel immediately after the strike of midnight on Thursday, following performances by, apart from music maestro A.R. Rahman, Bollywood actors Karisma Kapoor, Priyanka Chopra and Juhi Chawla.
The site of celebrations will shift to Balsamand Lake Palace, around 11 km from Umaid Bhawan, on Friday – where the guests will come together for Laxmi Puja. This will be followed by a dance programme choreographed by Bollywood luminary Vaibhavi Merchant that the family members could also join. Both Nita and her daughter Isha are professional classical dancers.
The Ambani's guest-list consisting of more than 250 names includes the former Jodhpur royal and Umaid Bhawan owner Gaj Singh II and his family, Ambani's fellow tycoons such as the Mahindras, Birlas, Godrejs and Mittals and members of their IPL team, Mumbai Indian. Sources said around 32 planes had been chartered to ferry the more than 250 guests.
Around 135 luxury cars, including BMWs and Jaguars, will reach from Delhi to bring the guests from the airport. Besides, 100 cars have been booked from various travel agencies.
The chartered planes will be sent to Delhi, Udaipur and Jaipur airports for parking as limited space is available at Jodhpur. The Jaisalmer airport, though primarily used by the IAF, is also under consideration for the purpose.
src: http://indiatoday.intoday.in/story/nita-ambani-50th-birthday-jodhpur-dhanteras/1/321032.html